Get Your Free Copy of the KC Biker Bible Today!
THE RESOURCE FOR MOTORCYCLISTS IN KANSAS CITY - The KC Biker Bible is a compilation of tips, strategies, and information for Kansas City bikers who want to stay safe on the road. It is also a compilation of information to maximize your fun on and off the road, including great rides, motorcycle events, biker bars, and biker magazines.
Order Your Free Copy of KC Biker Bible Today, Just Complete The Form on This Page.
We will not share your information with anyone. You will receive your copy in the mail soon.
Pick Up Your FREE Copy at Local Motorcycle Shops, or We Can Mail You a Copy:
Smithville: Croft Motorcycle Trailers Smithville,
Northern KC: Hardcore Customs, Worth Harley-Davidson
Liberty: BikeWorks Unlimited
Avondale: Alter Ego, Bear's Hiway Classics, Doug's Choppers
KC Central: Café Racer, Front Street Motors, Engle Motors, The Bike Shop (Truman Road), Croft Motorcycle Trailers Truman Road
South KC: Freedom Cycles, Gail's Harley-Davidson, Dream Motorsports, Reno's Powersports, Bike Works Unlimited, RideNow Powersports
Olathe: Olathe Suzuki, Rawhide Harley-Davidson, Letko Cycles, Indian Motorcycle Kansas City, Croft Motorcycle Trailers Olathe
Independence: Austin Trailers and Motor Sports, Unrestricted Cycles, Blue Springs, Dell's Powersports, Outlaw Harley-Davidson, Donnell's Motorcycles,
Merriam: Alter Ego Merriam, Turkey Creek Customs
Shawnee: Shawnee Cycle Plaza
De Soto / Edwardsville: CR Cycle Tire
St. Joseph: St. Joseph Harley-Davidson, Horizon Outdoor
Topeka: Topeka Harley-Davidson
Praise for the KC Biker Bible:
"The KC Biker Bible is a comprehensive "go to" resource for bikers located in Kansas City and throughout the country. Consistent with James Roswold, Esq.' community first focus, the KC Biker Bible includes great information about biker rights, biker safety, biker bars, great rides, and the overall biker community."
- Charles Internicola, New York Attorney
"A must-read for motorcycle enthusiasts new and old. James Roswold's Biker Bible is chock full of valuable information for riders wanting to protect themselves on and off the road."
- Andrew S. Talge, Attorney & 2008 Harley-Davidson Street Glide Rider
NOTE: Ordering our book or receiving a free consultation does not make us your attorneys.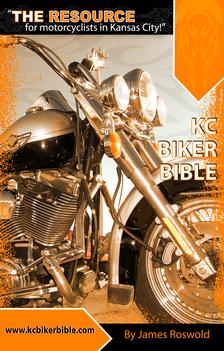 Complete the form to get your FREE copy of the KC Biker Bible