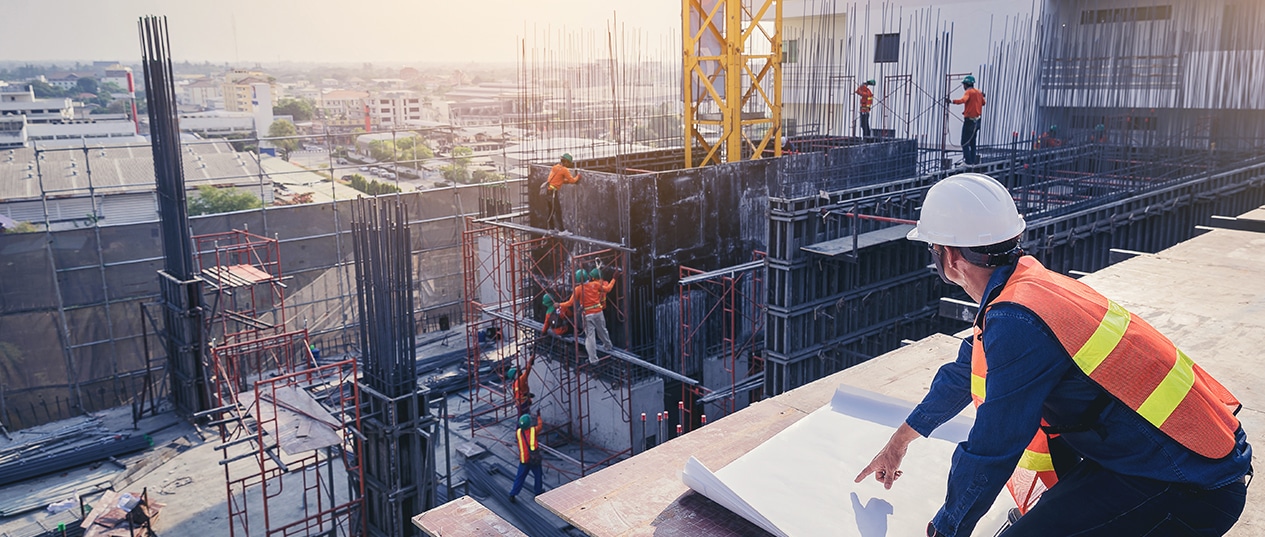 Seasoned Kansas City Construction Site Accident Attorneys in Missouri and Kansas
Skilled representation for employees and contractors injured on the job
Construction is the lifeblood of America. New buildings help communities grow and businesses prosper. Construction helps expand roads and bridges and keeps them in good repair. New buildings are going up all over the Kansas City area with the help of carpenters, plumbers, electricians, masonry workers, and all types of builders. It's critical that we protect these workers when accidents, injuries, or deaths occur.
At Kansas City Accident Injury Attorneys, our Missouri and Kansas lawyers fight for employees and contractors. We file personal injury claims, product liability claims, and workers' compensation claims. Our experienced lawyers explain when you need to prove negligence and when you don't in order to file and win a claim. We know how to prove when construction site owners failed to follow federal safety regulations and local building guides. Our team works with your physicians to explain all your injuries, how the injuries affect your ability to work, and show the scope of your pain and suffering.
Do I have a case?
Call now or fill out a form to receive a free confidential consultation
What safety rules govern the construction industry?
The Occupational Safety and Health Administration (OSHA) has numerous regulations designed to protect construction workers, including regulations governing how work should be performed and the safety of the tools and equipment used on the job. There are also state and local building codes that regulate what materials and which methods must be used when constructing residential and commercial buildings.
According to the Centers for Disease Control and Prevention (CDC), in 2019, more than 11 million workers were employed in the construction industry. Falls are the leading cause of work-related deaths.
What are the common types of construction site accidents?
There are numerous ways in which construction accidents in Kansas or Missouri may cause injuries or fatalities. Many are common to all types of construction work. Some are unique to whether the construction involves buildings, infrastructures, or industries.
Some of the many types of construction accidents our firm handles include:
Vehicle accidents, often involving trucks that are transporting materials and cars that try to navigate around the construction work
Falls may be due to uneven surfaces, debris or an object or objects on a surface, falls from ladders and scaffolds, and falls due to other causes
Equipment and machinery accidents, such as forklift accidents, power tool accidents, and accidents while working with cranes or bulldozers
Electrocution accidents, involving contact with power lines or contact with power tools and equipment
Being struck by an object or pinned by an object
Exposure to toxic chemicals
Thermal, electrical, and chemical burns
Trench collapses
Who can file a construction accident injury claim?
Employees normally must report their injury to their employer and file a worker's compensation claim. . They cannot file a personal injury claim. This means employees cannot seek damages for pain and suffering, and their wage losses are limited by the applicable state law. The good news with workers' compensation, however, is that the employee does not need to prove fault. In cases where an injury was caused by a defective tool or machine, employees can file a product liability claim instead of or in addition to a worker's compensation claim depending on the facts and circumstances of the accident injury.
Contractors cannot file a workers' compensation claim unless they can prove they are valid employees. They can, however, file a personal injury claim, which means they can seek damages for their lost income and their pain and suffering. With a personal injury claim, our Kansas City attorneys will help prove fault and liability.
Generally, the difference between an employee and a contractor is that the employer controls the work performance and schedule of an employee. They do not control an independent contractor's work performance or schedule. This determination can be complicated and the lawyers here at Kansas City Accident Injury Attorneys can explain these details in your consultation.
A pedestrian, driver, or anyone who is not a construction worker can also file a personal injury claim if conditions on a construction site caused their injuries or death. Construction site owners have a duty to navigate cars and pedestrians away from a worksite and warn them of potential hazards and dangers.
Can I file a product liability claim for a Kansas City construction accident?
Many construction accidents are due to defective equipment or tools. Construction is dangerous work, and manufacturers have a duty to ensure their products are safe for all employees and contractors. Workers may fall, suffer electrocution, or experience many other accidents if their products malfunction during use.
In order to file a product liability claim, the worker must show that:
The product was defective when it was used
The defect caused the worker to suffer injuries and losses
Construction machinery, equipment, and tools may be defective due to:
Poor design
Faulty manufacture, including the use of substandard materials
Unclear or faulty instructions
Manufacturers, distributors, and sellers of defective products are strictly liable for any deaths or injuries their products cause. This means, as the injured party, you do not have to prove the manufacturer or other related company was negligent or careless.
When can I workers' file a workers' compensation claim?
Both Missouri and Kansas protect workers who are injured while doing their job or who suffer an occupational illness, by permitting these workers the right to file a workers' compensation claim. Workers' compensation is a compromise. An employee does not need to prove fault; just that they were injured on the job and within the course and scope of the employment. In return, the employer is not subject to a lawsuit and provides medical and wage benefits (but not pain and suffering).
Eligible employees who are injured at a construction site or while performing construction site duties (such as transporting debris or bringing in materials) are entitled to compensation for their medical bills. These can include ER care, surgeries, doctor visits, treatment with therapists, medical devices, and medications.
With workers' compensation, medical expenses are usually divided in two ways. The first is the medical care you need to reach your state of maximum medical improvement (MMI) – the stage where additional medical care is not expected to improve your health. The second is the medical care you need (sometimes for life) to help ensure your condition does not get worse.
Employees can also claim:
Temporary work loss benefits. These are a percentage of the wages you earned prior to the workplace accident, which continue until you can return to work or until you've reached maximum medical improvement.
Permanent work loss benefits. Many workers who have a permanent injury are entitled to additional pay, depending on the type of injury they have and the severity of the injury.
Vocational benefits. Construction workers may also be entitled to vocational retraining if they can't work at their prior job but can work in a new field if they receive proper training or education.
The percentage of work loss benefits varies depending on the state where you work and other factors.
Can I file a personal injury claim for my construction site accident?
Independent contractors and non-workers can file a personal injury claim. Employees can file a personal injury claim only under certain circumstances, like in the case of a defective product, which our attorneys can discuss with you.
For a successful personal injury claim, the victim or family of the deceased must show that the construction site owner, the property owner, the architects, engineers, contractors, or others who are not the employer acted negligently. At Kansas City Accident Injury Attorneys, we work to show the defendants:
Failed to follow federal, state, or local safety standards
Failed to follow common safety standards for the type of construction work involved
Were otherwise negligent or careless
Injury victims can seek damages for:
Medical bills
Lost income
Physical pain and emotional suffering
Scarring or disfigurement
Loss of companionship and consortium
We also file wrongful death cases if a family member tragically died while doing their construction job.
A personal injury award is normally much larger than a workers' compensation award.
What should I do after a Kansas City construction site accident?
After your accident, you may be feeling overwhelmed and confused as to what to do next. You may also be receiving pressure from insurance companies and their attorneys to give statements or accept settlements relating to your construction injury. It is important, however, not to take any action that could jeopardize your claim and that you speak to and receive important information and advice from our experienced Kansas City Accident Injury Attorneys so as to preserve your claim or claims.
In addition, we recommend taking the following plan of action after suffering an injury in a construction site accident:
Seek medical treatment.
Follow the advice of your doctor.
Consult with an experienced attorney as soon as possible.
Keep accurate records of the expenses you incur as a result of your injuries.
Obtain a copy of your medical record.
Do not speak with insurance companies or other attorneys without first consulting your own lawyer.
Obtain statements from any witnesses who saw the accident occur.
Taking these steps can help increase the value of your claim and your claim's chances of success.
Knowledgeable attorneys helping injured construction workers
The experienced team at Kansas City Accident Injury Attorneys investigate the accident site as soon as possible, and they begin working with your physicians to show the extent of your injuries and how they're preventing you from working and enjoying life. Let us fight for compensation on your behalf.
We encourage you to contact us today for a free, no-obligation consultation at 816-471-5111 or use our contact form. From our headquarters in Kansas City, we proudly represent construction workers throughout Missouri and Kansas. We also have offices in in Overland Park, KS, Lee's Summit, MO, St. Joseph, MO, Olathe, KS, and Parkville, MO by appointment only.
Related Articles