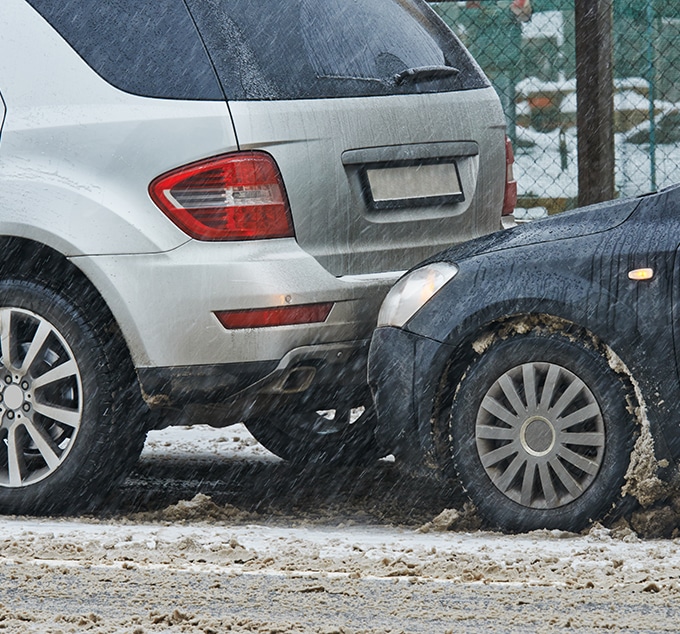 Insurance Information for Drivers in Kansas City
Answering your questions about insurance in MO and KS
Insurance policies pay your damages when accidents happen. Some insurance policies, like healthcare policies, personal injury protection (PIP)/MedPay policies, and collision policies, do not require showing fault – that someone else caused your injuries. The policy that pays most of your damages after a motor vehicle accident is called a liability insurance policy. A common example of how this works is when a speeding driver crashes into your car, causing you to break your bones. That driver's liability insurance policy should pay for your financial and personal damages, including your medical bills, lost income, property damage, and pain and suffering, up to the policy's liability limits. Your liability policy, on the other hand, pays for the damages you may cause to others.
At Kansas City Accident Injury Attorneys, our lawyers understand how to prepare your claim and when to negotiate your claim. But we also understand that you probably have a lot of questions about insurance, and about how claims are handled in general. This resource can help you get the information you need. And if you are injured and don't know where to turn? We can help with that, too.
What types of insurance coverage are used in vehicle accident cases?
The insurance policies that help you while your personal injury claim is pending include:
Health insurance. Your own health insurance, whether it's a private policy or a public policy such as Medicare, should pay for your medical care. Our lawyers, when necessary, will discuss deferring payment of deductibles and copays until your case settles. We'll also discuss deferring payment if you don't have health insurance.
MedPay/Personal injury protection (PIP). Both Missouri and Kansas offer this coverage, which pays for your medical bills and may pay for lost income (up to the policy amounts) without the need to prove fault.
Collision insurance. This insurance pays for the damage to your car, truck, or motorcycle regardless of fault.
The insurance policies that pay for your economic and personal losses once fault is determined include:
Liability insurance. Car, truck, and motorcycle owners are all required to have liability insurance in case of a vehicle accident. Liability insurance pays for all the damages caused by the insured and the accident victim (or his/her family) is entitled to claim up to the policy limits.
Uninsured/underinsured (UM/UIM) insurance. If the liable defendants don't have insurance or don't have enough to pay your claim, you can use your own UM/UIM policy to pay your damage claim.
Umbrella insurance. This is liability insurance that pays over and above the amount the liability insurance pays.
What are the insurance issues in car accident cases in Kansas City?
Most car accident victims use their health and MedPay/PIP insurance to pay their medical bills and have access to income while their case is pending. We'll explain when you qualify to use the MedPay/PIP insurance of someone else, like a member of your family.
There's normally just one liability carrier in a car accident case – the insurance carrier for the owner of the vehicle that struck you. We negotiate directly with this carrier, typically when your medical treatment is complete and we know the full scope of your injuries. If the person who struck you doesn't have insurance (even though they are legally required to have minimum coverage) or doesn't have enough insurance, we negotiate your claim with your UM/UIM carrier.
In some cases, we negotiate with an insurance company for a vehicle or parts manufacturer, a state agency, or others who may be responsible for your accident.
What are the insurance issues in truck accident cases in Kansas City?
The insurance issues in truck accident cases are similar to car accidents. The main differences are that the damages are usually larger because the injuries, such as brain trauma or spinal cord damage) are more severe. Truck accidents generally cause more fatalities than car accidents. We file a wrongful death claim on behalf of the family members when truck accidents take a life.
Another common difference is that more defendants (a driver, the owner of the truck, a shipping company, the broker, and others) are usually involved in your truck accident claim which means there are more insurance companies and insurance adjusters. We file claims and negotiate with each and every insurance company.
What are the insurance issues in motorcycle accident cases in Kansas City?
Like truck accidents, motorcycle accidents are usually more catastrophic and more deadly than car accidents. Motorcycles don't offer any physical protection. Most riders collide with another vehicle and then with the hard asphalt.
Motorcycle operators normally need to show another driver was negligent or a motorcycle part was defective to recover damages from a liability insurance policy. Motorcycle passengers can also file claims against the motorcycle operator in the event their actions caused the accident.
What are the insurance issues in other vehicle cases in Kansas City?
Kansas City Accident Injury Attorneys handle many other types of vehicle accidents, including Uber and Lyft accidents. Uber and Lyft accidents have unique insurance issues that depend on whether the driver was looking for rides, had accepted a ride and was driving to pick up a passenger, or had a passenger in the vehicle. The driver and/or the rideshare company's insurance carrier may both be liable for any damages depending on the ride status and other factors.
There are many other insurance issues our skilled personal injury lawyers handle, including roadway construction accidents and vehicle defect claims.
What is uninsured/underinsured motorist insurance?
Uninsured/underinsured motorist insurance (UM/UIM) in Missouri and Kansas protects drivers in the event they are involved in an accident caused by a driver that does not have enough insurance (or any) to cover their damages and losses. UM/UIM insurance also comes in handy in cases of hit-and-run accidents. A simple example of how UIM works – if you are injured by a negligent driver who causes you $100,000 in damages, but their insurance maxes out at $75,000, you can turn to your UIM policy for the remaining $25,000.
How can you help ensure my insurance claim is paid?
We seek immediate payment of the policy proceeds – payment of your medical bills, lost income, and the property damage so you can drive again. The preparation of your liability claim involves showing how the accident happened and why the defendants are responsible.
The preparation also includes verifying your injuries through a medical diagnosis, explaining the medical care you need and will permanently need, showing all the ways your injuries affect your life, your financial losses, and your pain and suffering.
Once we've prepared your claim, we submit a demand letter to the insurance companies and try to negotiate a settlement. If the insurance company won't make a fair settlement, we file suit and take your case to a trial before a jury.
Do you have an accident attorney near me?
At Kansas City Accident Injury Attorneys, our vehicle accident insurance lawyers meet clients at our main office located at 510 Walnut, Suite 100, Kansas City, MO, in the River Market area. All initial consultations are free. We also have many other offices in Missouri and Kansas, and we do meet clients at their homes or a healthcare facility when necessary. In addition, we talk with clients through our video chat service by appointment.
We'll explain which insurance policies apply to your claim and help you obtain the full amount of compensation you deserve. We often settle many claims for the policy limits.
Contact our Kansas City vehicle accident insurance lawyers today
At Kansas City Accident Injury Attorneys, our lawyers have an impressive record of jury verdicts. That's one of the many reasons insurance companies settle claims with us. They know we're ready and able to try your case before a jury. Call us or fill out our contact form to schedule your free consultation. We also have offices in Lee's Summit, St. Joseph, and Parkville, MO as well as Overland Park, Victory Hills, Kansas City and Olathe, KS available by appointment.