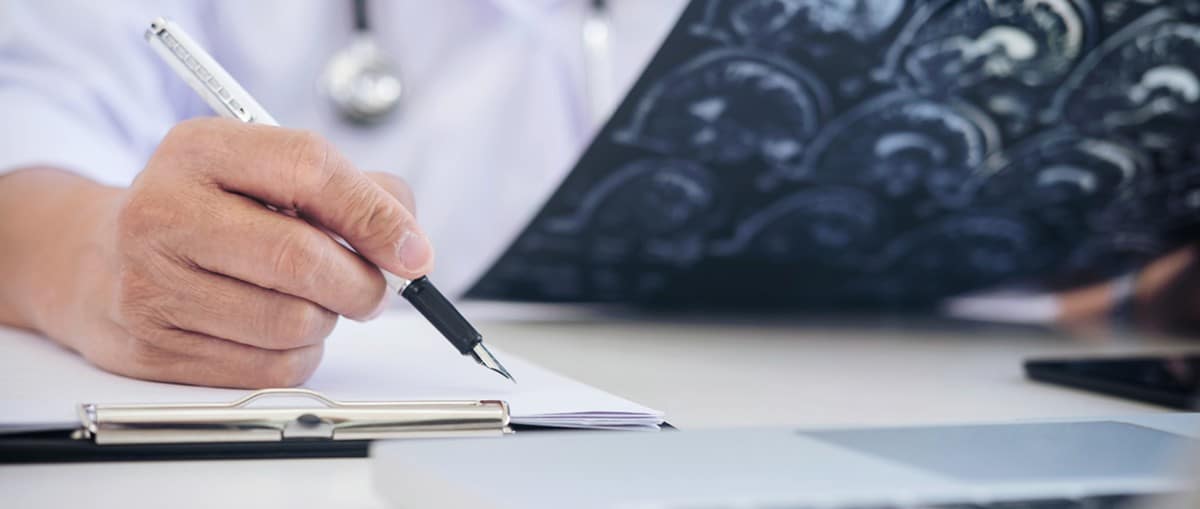 Kansas City Head, Shoulder, and Neck Injury Lawyers
Experienced representation for Kansas and Missouri accident victims
At Kansas City Accident Injury Attorneys, our lawyers have been fighting for personal injury victims for nearly 30 years. We work aggressively to determine how the accident occurred, and who is responsible. We also work with your team of doctors and healthcare providers to properly diagnose your injuries, review what treatments you need, and fully understand just how much you are suffering because of your head, shoulder, neck, and other injuries. We have a strong record of success negotiating settlements and trying cases for accident victims with head and upper body injuries.
Do I have a case?
Call now or fill out a form to receive a free confidential consultation
What are the causes of head and neck injuries?
Car accidents, truck accidents, and motorcycle accidents often cause serious head, shoulder, and neck injuries. A car accident victim may strike his or her head against a dashboard or another person in the car. Drivers and passengers regularly wrench their necks even when they are securely secured with a seatbelt and protected by an airbag.
Motorcycle riders often fall on the upper part of their body – straight onto the hard asphalt. Even when motorcycle riders are wearing a helmet, head, shoulder, and neck injuries are quite common.
Many victims of car and motorcycle accidents don't realize they have neck problems until days after the accident. According to Orthomen, a West Coast medical practice, rear-end collisions often cause whiplash. "Whiplash may damage joints or discs, which in turn may irritate spinal nerve roots or, more rarely, the spinal cord, causing nerve symptoms." Symptoms of a neck injury include weakness, tingling, pain, dizziness, stiffness, and "electric-type sensations that go down one arm."
Other neck injuries include:
Soft tissue damage
Nerve damage
Muscle strain
Neck sprain
Herniated disks
Fractures of the neck
Cervical dislocation
What types of shoulder injuries are caused by vehicle accidents?
Car accident and motorcycle accident victims may suffer different types of shoulder injuries according to the Mayo Clinic:
Brachial plexus injury. Here, the shoulder nerves are torn, compressed, or stretched away from the spinal cord.
Broken collarbone (clavicle). The clavicle connects your shoulder blade to the upper part of your breastbone.
Dislocated shoulder. Here, the bone of your upper arm essentially pops out of your shoulder socket. Even if a dislocated shoulder is fixed, a repeat dislocation is possible.
Torn rotator cuff. Your rotator cuff consists of muscles and tendons. A torn rotator cuff injury may require surgery. If your rotator cuff is torn, you may have difficulty performing tasks that require you to lift your arm. A torn rotator cuff can cause constant agony.
Shoulder separation. According to Very Well Health, a "shoulder separation is an injury to the acromioclavicular joint on the top of the shoulder."
Victims of car, motorcycle, and other accidents who have a shoulder injury usually need to consult with an orthopedist or orthopedic surgeon who repairs fractures and tears and treats dislocations. If the shoulder injury does not fully heal, a victim may have trouble performing daily work tasks. Victims may have difficulty sleeping, eating, and enjoying family and friends.
Other causes of head, neck, and shoulder injuries
Of course, not all serious neck, shoulder, and head trauma is the result of a motor vehicle crash. Other common causes include:
Being hit by falling objects
Assaults
Recreational sports
If your child is injured while playing for the local sports team, your elderly loved one sustains injuries in a fall at a nursing home, or you or a loved one is hurt on an unsafe property, Kansas City Accident Injury Attorneys can help. We know that a seemingly minor injury can actually be quite severe, and that it could easily be exacerbated over time.
What are the treatments for head, shoulder, and neck injuries?
The treatments differ depending on the location of the injury, the type of injury, the severity of the injury, and whether there are any other injuries.
Head injuries. Victims with penetrating head wounds could require surgery. They may also need rehabilitative care if their injuries caused brain trauma.
Shoulder injuries. The treatments vary depending on the type of shoulder injury. In addition to medications, your doctors may recommend physical therapy, the use of Transcutaneous Electrical Nerve Stimulation (TENS), traction, and short-term immobilization. Car and motorcycle accident victims may require steroid injections and other types of surgery.
Neck injuries. According to Spine Health, treatments include rest, ice and/or heat and stretching exercises if the injuries aren't too server. Physical therapy may be necessary. Medications such as nonsteroidal anti-inflammatory drugs (NSAIDs) or acetaminophen, may help. Your doctor may prescribe other medications. Therapies may include chiropractic care, acupuncture, massage, and meditation. Depending on the type and severity of the injury, surgery may be necessary. One common surgery is the injection of cervical epidural steroids.
What damages are available for a head, neck, or shoulder claim?
Damage to the head, neck, and shoulders can decrease mobility, cause chronic pain, and leave you unable to work to support your family. This can also lead to mental or emotional trauma, as you try to navigate a world where you cannot live the way you once did. At Kansas City Accident Injury Attorneys, we understand that the most serious injuries aren't always ones you can see right away. That is why we fight for your right to compensation for your losses, including:
Medical expenses
Lost wages and loss of future earning potential
Pain and suffering
Loss of consortium for your spouse
Property damage
Do you have a personal injury attorney near me?
Kansas City Accident Injury Attorneys serves all of Missouri and Kansas and offers multiple locations for your convenience. Our Kansas City office is located at 510 Walnut Street.
Helping victims of head, neck, and shoulder injuries in Kansas City
At Kansas City Accident Injury Attorneys, we understand just   how upsetting and difficult head, shoulder, and neck injuries are. We appreciate that many victims require a lifetime of medical care and never fully recover. Our lawyers work with your treating doctors and often work with independent physicians to fully understand how traumatic your injuries are.
To discuss your case, call us at 816-471-5111, start a live chat, or fill out our contact form to make a free appointment.  From our headquarters in Kansas City, we fight for personal injury victims throughout Kansas and Missouri. We have offices in Lee's Summit, St. Joseph, and Parkville, MO, as well as Overland Park and Olathe, KS available by appointment.