Safety and Liability for Motorcycle Passengers
Whether you hop on a friend's motorcycle for a one-time quick trip or you're a regular partner on your spouse's bike, you should be aware of your rights and responsibilities as a passenger.
Passengers are just as likely to be seriously injured in a motorcycle crash as the driver, but their lack of control of the bike makes them even more at risk. Learn about what the driver should do to protect you and what you should do to contribute to the safety of the trip as well.
Motorcycle Passengers Are Subject to the Same Safety Rules as Drivers
No matter where you're riding, if the driver is subject to a helmet law, so is the passenger. In Missouri, both drivers and passengers must wear a DOT-approved helmet. In Kansas, only passengers under the age of 18 must wear a helmet.
In order to carry a passenger, the bike must be designed to hold more than one person. There should be a designated seat and foot rests for a passenger in order to legally carry one. For your own safety as a passenger, don't get on the back of a friend's bike if there's not a seat for you. Also insist that the driver provide you with a helmet or bring your own. Even if it's not a state law, a helmet could save your life.
The Motorcycle Driver's Responsibilities to His Passenger
Riding a motorcycle with a passenger does present challenges for which a driver should be prepared. Having a passenger on the back changes the bike's handling characteristics because of the added weight and any movement the passenger may make. The extra weight means the driver will need to allow more time for passing vehicles, climbing hills, and braking. Even an experienced motorcyclist should practice on a closed course with a passenger before heading out on the road.
You may have a claim for compensation against the driver if you're a passenger on a motorcycle and he or she does any of the following that results in a crash:
Speeding
Taking a turn too quickly
Driving while intoxicated
Not allowing enough following distance behind another vehicle
Lane splitting or weaving in and out of traffic
Reckless driving
Motorcycle Passenger Responsibility and Liability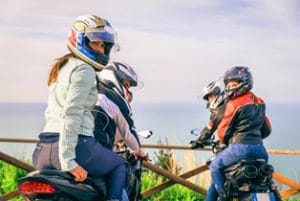 Because a passenger on a motorcycle can affect the handling of the bike, he or she has a duty to behave responsibly on the back of a bike. Any motion can throw off the driver and cause an accident.
As a passenger, it's important to remember that you're an active rider, not a rag doll. You must hold on to the driver and lean with him. When he brakes, you must prevent yourself from sliding forward and bumping into him. If a passenger's actions cause the driver to fall off the bike or result in a crash, the passenger can be held liable for the crash.
Some dangerous actions on the part of a passenger include:
Not leaning with the driver around a corner
Not holding on to the driver or the rear grab rail
Making sudden movements
Distracting the driver by trying to communicate with him
Removing feet from the footrests
Get The KC Biker Bible For Free Here!
While the driver should offer protective gear to a passenger, it's not his responsibility to make the passenger wear it. If a passenger chooses not to wear a helmet, the driver won't be responsible for the head injuries he or she suffers in a crash. However, if the passenger's actions cause the driver to lose control and crash, he or she may be held liable for the accident and may owe compensation to the driver.
Have You Been Injured In A Motorcycle Accident?
If you've been injured in a motorcycle accident you need to speak with an experienced motorcycle accident attorney as soon as possible. Please contact us online or call our Kansas City office directly at 816-471-5111 to schedule your free consultation. You can also order your FREE copy of our book, "KC Biker Bible."
Related Links: