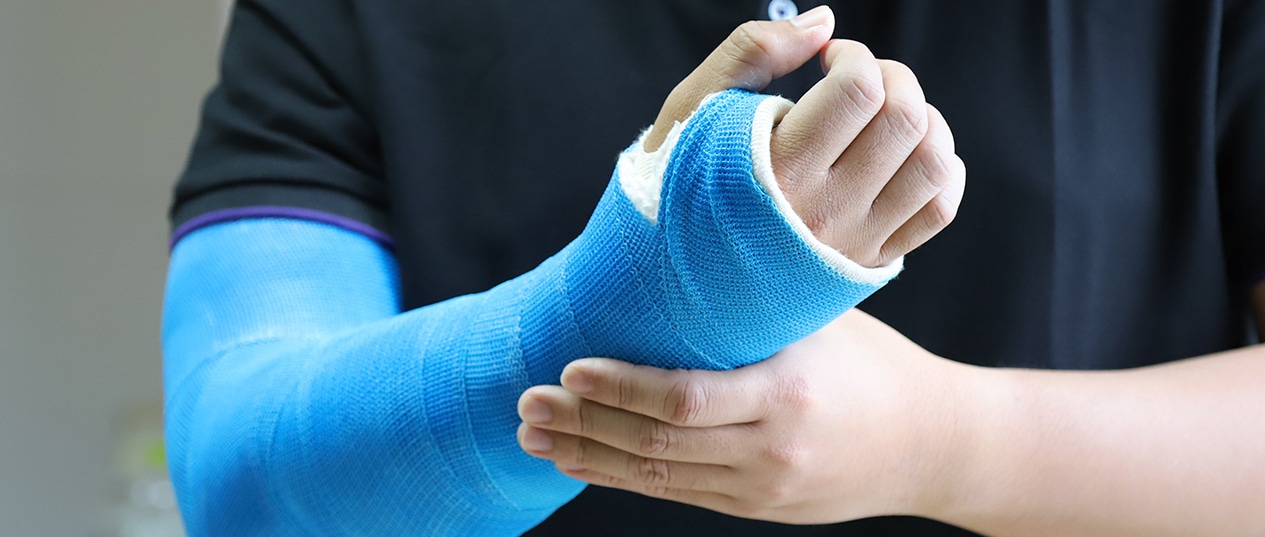 Olathe Personal Injury Attorneys
Strong advocacy for Kansas injury victims and their families in Johnson County, KS
An accident can change your life in an instant. One moment you're feeling happy. The next moment a thoughtless driver, an irresponsible property owner, a defective product, a construction accident, or a workplace injury can send you to the hospital. In most cases, it is necessary to show another person or entity's negligence or incompetence caused you harm.
At Kansas City Accident Injury Attorneys, we make our clients' needs our priority. We've been fighting for Olathe personal injury victims for more than 25 years. Our injury lawyers work with a team of investigators, liability professionals, and medical professionals to place your needs FIRST. We fight aggressively to hold defendants liable for the deaths and injuries they cause accident victims. When you need experienced lawyers to fight the insurance companies, we are ready to plead your case.
Why work with our Olathe personal injury lawyers?
With luck, the pain you suffer after an injury subsides so you can start your life again. Many victims, however, live with unbearable pain. Our lawyers represent victims of catastrophic, permanent, and severe injuries. We fight for Kansas families when negligence causes the tragic death of a parent, child, or spouse.
We have a track record of successful settlements and jury verdicts, based on our thorough preparation of your case, an understanding of the legal issues, and our ability to persuasively argue your case. We anticipate the arguments insurance companies and defense make. We understand when adjusters are being reasonable, and when they're being unfair. Our law firm was built on tough representation for our clients and their families. Our motto, "Where Accident Victims and Their Families Come FIRST," applies to all our clients.
We're a small firm which means your case will get the personal attention it deserves. Rest assured that you will be able to speak directly with our lawyers. Our lawyers and our staff diligently answer our client's questions, guide them through the litigation process, and keep you informed.
What types of personal injury cases do you take?
Our Olathe personal injury lawyers handle cases involving all types of cases, from soft-tissue injuries and broken bones to injuries that permanently affect your life. We represent clients with injuries that heal within a short time and accident victims with catastrophic injuries.
Our attorneys work with you and with doctors who specialize in treating the following injuries:
Loss of a limb or appendage/amputation
Injuries to children
Broken bones
Tissue, muscle, ligament, or nerve damage
Damage to internal organs
Vision loss
Hearing loss
Do I have a case?
Call now or fill out a form to receive a free confidential consultation
Caring representation when a loved one dies
The loss of a child, parent, or spouse is too upsetting to even think about. It's especially heart-wrenching when the death could have been prevented – if only the defendant had acted responsibly. At Kansas City Accident Injury Attorneys, we understand how hard it is to concentrate on filing a wrongful death claim when all you can think about is your beloved. Our legal team honors your need to mourn. We work with you to balance your grief with the steps you need to take to prepare your case and hold the wrongdoers accountable.
At Kansas City Accident Injury Attorneys, we understand how difficult it is to move forward without your loved one in your life. The loss of a loved one has no true monetary value. Adding up the financial losses and placing a value on the loss of guidance, love, and support of the loved one doesn't do justice. We understand that. We work to obtain all the compensation Kansas law permits so you can start breathing again, protect your home, and provide for your family. We know that's not enough, but it is a step forward.
Our lawyers are skilled at holding the wrongdoers accountable and obtaining strong recoveries. We have a strong record of success in personal injury cases including obtaining a $1 million verdict under the Federal Tort Claims Act – the biggest such verdict ever obtained at the time. Let us help you obtain financial justice for your loved one.
Tough representation for car, truck, and motorcycle accident victims in Olathe
Drivers on Interstate 35 and all the other highways, roads, and streets that pass through Olathe need to obey the traffic laws. Drivers need to adjust their driving for heavy traffic and bad weather conditions. Accidents can happen any time of day or night – any day of the year.
Drivers should never speed. They should never drive while they're distracted by text messages or other distractions. There's never any excuse for driving while intoxicated. Tired drivers need to get off the road. And yet, every day negligent drivers do exactly this, putting all of us (as well as themselves) at risk.
It's not just the drivers who may be liable for the accident that causes your injuries or the death of a loved one:
An owner. The owners of the car, truck, or motorcycle may be different than the driver. Owners can be liable for the negligence of anyone who has permission to use their vehicle. We will conduct a thorough investigation to find all liable parties.
A company. Trucking companies and shipping brokers, for example, need to ensure their drivers are qualified, that the truck cargo is secure, and the trucks are regularly inspected and repaired. Construction companies may be liable if they fail to warn or redirect drivers away from road work or other construction sites, or if they hire inexperienced or unfit drivers.
A government. A local government agency may be liable if the road design is wrong, or they fail to respond to emergency conditions such as broken traffic lights. These cases can be incredibly complex, however, and the statute of limitations is often shorter, so we need to get started right away.
At Kansas City Accident Injury Attorneys, our lawyers do the work to help show how the accident occurred, and who is responsible. We work with your physicians to fully document what your injuries are, what treatments you need, and why the injuries are causing so much pain and anxiety.
We handle the full range of accident types including head-on crashes, broadsides, rear-enders, sideswipes, rollovers, and more. It's important to move quickly to preserve your case. Call us as soon as you can after a car accident, truck accident, or motorcycle accident in or near Olathe or anywhere in Kansas.
Can you hold Olathe property owners liable for injuries that happen on their premises?
In most cases, you can hold property owners liable for failing to protect your safety. Both customers and anyone with permission to use the property have the right to file a premises liability claim if the owners did not take every step possible to inspect their property and respond to any reasonably known dangers. Both for-profit businesses such as hotels, retail stores, and restaurants and non-profit businesses such as community organizations, schools, and even hospitals have a duty to secure their property. Even your neighbor needs to clean the sidewalks of snow and ice.
We represent accident victims who slip and fall, are attacked because of negligent security, are bitten by a dog, or for other reasons. We seek compensation for all your financial losses and your pain and suffering.
Responsibility for nursing home negligence and abuse in Kansas
There are numerous nursing homes and rehabilitation centers in and near Olathe. These homes have a duty to ensure the safety of their residents who are usually senior citizens. Nursing facilities must protect seniors from physical, emotional, sexual, or financial abuse. Nursing homes themselves need to anticipate that seniors will have mobility problems. There should be protocols in place to vet new staff members, and to respond to complaints by seniors and families.
Our nursing home abuse and negligence lawyers in Olathe have the experience seniors need. We understand that filing a legal claim ensures justice for the senior and helps protect the other residents of the nursing home or rehabilitation centers too. We explain that seniors have a federal Bill of Rights and a state Bill of Rights. If a loved dies due to abuse or neglect, our Kanas City Accident Injury lawyers file wrongful death cases on behalf of the families. Contact us to discuss how we can help your senior stay safe. We represent seniors and families – including families who live outside of Olathe or Kansas.
Which companies are responsible for construction accidents Olathe?
Many new construction projects in Olathe are planned or in the works. Construction work is dangerous because the ground and structures are constantly changing. The equipment, machinery, and tools require that the workers who use them have special skills. The construction site owners have a duty to protect and warn any drivers or pedestrians who may come near the site. The owners also have a duty to protect the workers who may suffer serious injuries due to vehicle accidents, slips and falls, being struck by an object, being pinned, and other incidents.
Employees can file workers' compensation claims. Drivers, pedestrians, and contractors can file personal injury claims for their medical bills, lost income, and pain and suffering. It's not just the construction site owners who may be liable. Our Olathe construction accident lawyers investigate the liability of the architects, engineers, and primary contractors. Manufacturers may be liable if defective tools, machinery, or equipment causes death or personal injury.
Call us today, if you suffered an injury at an Olathe construction accident while working at the site or while just passing by.
Employer responsibility for workers' compensation in Olathe, Kansas
Kansas workers' compensation law provides that employees can file a no-fault claim for benefits. No-fault means the employee does not need to prove the employer was negligent. Benefits include payment for all your medical bills and a proportion of your last wages. Employees cannot file a claim for pain and suffering against their employer.
The wage benefits change depending on the status of your health. While you are receiving medical care to improve your medical condition, you can seek temporary benefits. These benefits are generally 2/3 of your lost wages. Once it is clear that additional medical care is unlikely to improve your medical condition, a review is made to determine if you have a permanent disability and the severity of the disability. If your disability is covered, you can seek additional wage loss benefits. Partial and permanent disability benefits are generally 2/3 of your wages for a specific number of weeks or up to a preset dollar amount.
There is a dividing line for filing a workers' compensation claim. Only employees can file a workers' compensation claim. Independent contractors must file a personal injury claim, though sometimes, employees can file an injury claim, too. Both employees and contractors can file a product liability claim against a manufacturer if defective machinery, equipment, or tools cause injuries or death. We work quickly to preserve both of these claims, when necessary, and can help you choose the right course.
If you are hurt while working in Olathe, call our Kansas City Accident Injury Attorneys today to learn if you have a claim. We can recommend a trusted partner to help with workers' compensation claims if we can't handle your case ourselves.
Who is liable for defective products?
Defective cars, electronic products, toys, and other products can cause death or serious injuries. A product is considered defective if:
There is a defect with the design,
There is a defect in the manufacturing of the product, and/or
There is a failure to warn about potential dangers while using the product.
Manufacturers, distributors, and retailers are strictly liable if their defective products cause harm. If you were injured or a loved one died due to a product defect, call our product liability lawyers in Olathe to discuss if you have a case.
Medical malpractice lawsuits in Olathe
Doctors, nurses, hospitals, pharmacies, and other health providers owe their patients a duty to provide competent medical care. Patients have the right to expect their physicians and providers have the necessary credentials, that they anticipate the medical problems that are likely to occur in their practice, and they understand the best ways to respond to emergencies.
Incompetent medical care includes making an improper diagnosis, mistakes in the surgery room, prescribing the wrong medications, and many other mistakes. Any patient who suffers from medical malpractice can file a medical malpractice claim against the responsible healthcare providers. Speak with our medical malpractice lawyers in Olathe to discuss your claim.
How much is my Olathe personal injury case worth?
Each victim's case is different.  The liability issues differ. The injuries and treatments differ. The ability of each victim to live with pain differs. The insurance policy limits often differ.
Still, there are several key factors that experienced Olathe personal injury lawyers assert. We demand compensation for all the damages Kansas law permits:
Medical expenses. We seek payment for all your medical bills (past and future) including hospitalizations, physician visits, therapy care, assistive devices, and medications.
Income loss. Accident victims should demand payment for the wages or income they lose, including benefits, because they can't work or can't earn the same living as they did before the accident.
Physical pain and emotional suffering. Every movement can cause unbearable pain. Even sitting still or trying to sleep can be agonizing. Victims have constant stress about their medical recovery, their family, and their work. Our lawyers demand compensation for all the ways an accident changes lives.
Loss of consortium. Kansas recognizes that spouses cannot be as personal/intimate as they were before the accident.
Property damage. If your car, truck, or motorcycle is damaged (or any other property is damaged), you have the right to seek payment for the value of the damage.
Do you have a personal injury attorney near me?
Our Olathe office is located at 110 South Cherry Street Suite 102. Call for an appointment. We also have other offices throughout Kansas and Missouri.
Learn if you have an Olathe personal injury lawyer claim today
Experience matters. Results matter. At Kansas City Accident Injury Attorneys, our lawyers have been fighting for personal injury victims for a combined 40 years. We have an impressive track record of settlements and verdicts. We'll answer your questions and guide you through each phase of the litigation process. To discuss your right to compensation and to speak with an experienced aggressive lawyer, call us directly at 816-471-5111 or use our contact form to schedule your free consultation.
Olathe Office
110 S Cherry St Suite 103,
Olathe, KS 66061