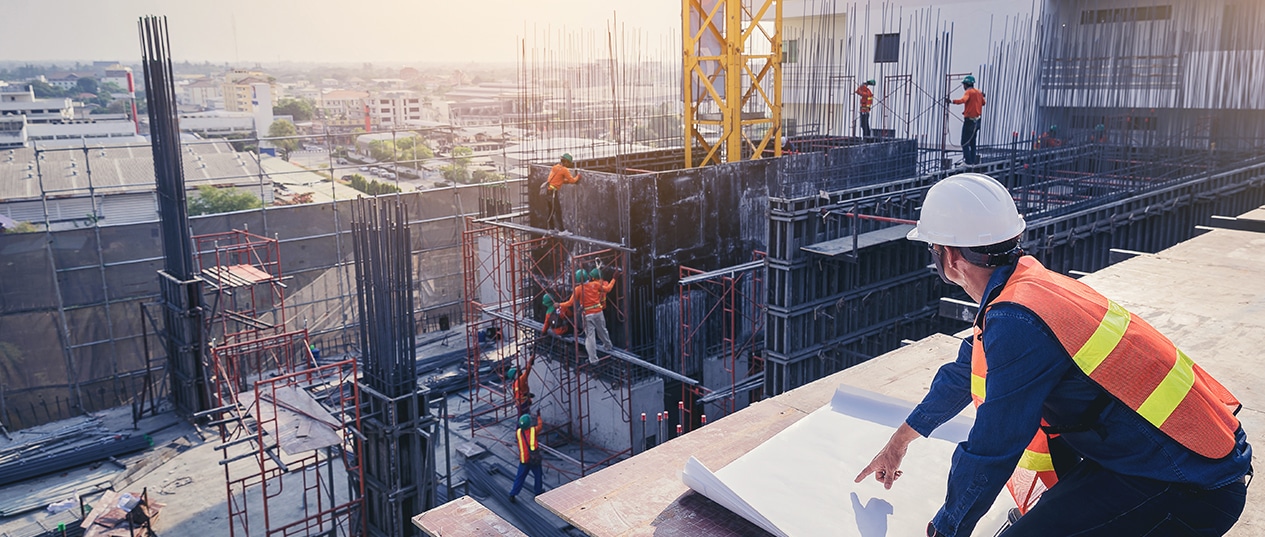 Construction Site Accident Attorneys in Olathe, KS
Representing victims of construction accidents in Olathe, Kansas
A workplace accident or injury can happen at any time in any profession. No one is exempt or safe from a workplace injury. However, the construction industry has higher risk factors to consider which can end in injuries more often. Each day construction workers are put in danger. When an employer fails to provide a safe working environment, people can get hurt.
At Kansas City Accident Injury Attorneys, we fight for the injured every single day. Our Olathe construction site injury lawyers are here to help workers, site visitors, passersby, and others who have suffered harm on or near a dangerous construction site. You can rely on us to have your back at every step. Call us in Olathe today to get started.
Are injuries common in the construction industry?
If your answer to this question was "yes," then you would be correct. The Center for Construction Research and Training reported that nearly 80,000 construction workers reported injuries in 2019. (Since government and self-employed workers were not included, the number is likely higher.) The same year, the Occupational Safety and Health Administration (OSHA) found that the construction industry accounted for one in every five worker deaths. Construction has become known as the deadliest industry.
What are common causes of injuries on Olathe construction sites?
Construction workers and site visitors can be injured in a number of ways. the most common causes of serious construction site injuries are:
Falls from heights: Construction workers must be provided with additional gear when they are working up high, such as body harnesses. They also have additional training on the proper way to work from heights. In the event that a construction worker falls from a higher story, they may not survive.
Electrical hazards: Construction workers can be exposed to wires and power lines, posing an electrocution risk. Flash arc accidents can happen, which are caused when an electrical current travels through the air, posing a burn and/or electrocution risk.
Trench collapse: During construction, workers will need to use trenches to gain access to the underground to bury electrical wires, work on plumbing and have access to other underground areas. If a trench collapses a construction worker can become stuck underneath it. If they are not rescued, they can die from asphyxiation. In other cases, they may fall into a trench and be injured.
Fires and explosions: When you work construction, you're around gas lines, flammable chemicals, and demolition gear all the time. A fire can easily break out. If there are enough chemicals, it could cause an explosion.
Unsafe entrances to/exits from the site: A construction site can be chaotic with various vehicles, mainly trucks, entering and exiting the worksite. If the truck driver is not paying attention, they can hit or run over construction workers or collide with vehicles passing by the entrance/exit.
Falling objects: People are constantly moving heavy materials and power tools on construction sites. A worker can be critically or even fatally injured if one of these objects falls from a scaffold or crane and hits the worker.
Exposure to loud noises: When construction workers are exposed to loud noises on a constant basis this can lead to hearing problems, which in turn can lead to communication problems – and that can affect every part of a person's life. An unexpected loud noise can also distract workers from the task at hand which can lead to them being injured.
Other risks posed to workers include exposure to dangerous chemicals, heavy machinery, and power tool accidents. If you have been injured in any way, you want to contact an Olathe construction site accident attorney as soon as you can.
Do I have a case?
Call now or fill out a form to receive a free confidential consultation
What injuries occur on Olathe construction sites?
Workers and visitors can be injured in myriad ways. Our Olathe construction injury lawyers represent victims who have suffered life-altering injuries such as:
Traumatic brain injuries
Spinal cord injuries
Crushing injuries
Traumatic amputations/limb loss
Internal organ damage
Nerve damage
Fatal injuries
Toxic exposure
Burn injuries
Multiple fractures
Hearing and/or vision loss
Sprains and strains
How can I recover compensation for an Olathe construction site injury?
Whether your injuries will heal with time and treatment, or are so severe that you may be unable to work and support yourself for the rest of your life, we want to help. We can assist you with:
Workers' compensation claims: Most employees in Kansas are covered by workers' compensation, a no-fault system designed to pay for your medical expenses and provide wage-loss benefits. The severity of your injury and your ability to return to work will determine what those wage-loss benefits are, but all of your medical treatments are covered.
Personal injury lawsuits: If you are ineligible for workers' compensation, if a third-party is responsible for your injuries, or if your injuries are so significant that workers' compensation isn't enough, you can file a personal injury lawsuit. Personal injury lawsuits allow you to seek compensation for wages and medical expenses, as well as pain and suffering and loss of consortium.
Product liability lawsuits: If your injuries were the result of a defective product, like a malfunctioning power tool, a defective scaffold, or a faulty piece of protective gear, you may be able to file a lawsuit against the manufacturer, seller, or distributor.
Wrongful death lawsuits: If your loved one dies on or near an Olathe construction site, Kansas City Accident Injury Attorneys can help you file a wrongful death lawsuit. While no amount of money will bring your loved one back, wrongful death suits ensure that the liable parties are held accountable, while also ensuring that you do not have to pay for the medical costs or funeral/burial expenses – expenses you would not have if not for someone else's negligence.
Do you have a construction site accident lawyer near me?
Our Olathe office is located at 110 South Cherry Street, Suite 102. Call for an appointment. We also have other offices throughout Kansas and Missouri.
Speak with an experienced Olathe construction site accident attorney if you were injured in a construction site accident
Kansas City Accident Injury Attorneys have the experience necessary to handle your case. We will work to show how this injury has affected your life and the lives of your family, and fight for your maximum recovery. Contact our Olathe construction site accident attorneys by calling our office at 816-290-7621, or filling out our contact form to schedule an initial consultation.
Olathe Office
110 S Cherry St Suite 103,
Olathe, KS 66061