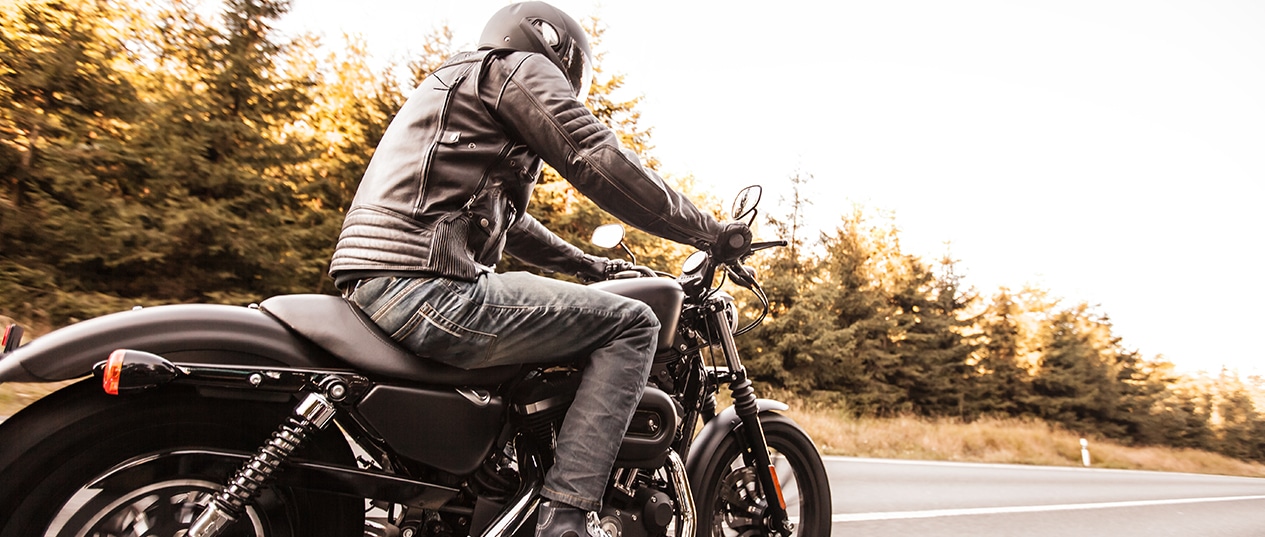 Motorcycle Accident Attorneys in Lee's Summit, MO
Aggressive representation for motorcycle accident victims in Missouri
Motorcyclists often get a bad rap from the general public. Even when they follow traffic rules and regulations, they can still be viewed as unsafe and reckless motorists. This biased stereotype only hurts motorcyclists in the end, especially they are the victim of an accident. Just like other injured parties, motorcyclists involved in an accident should have the opportunity to hold the negligent parties accountable.
At Kansas City Accident Injury Attorneys, our Lee's Summit motorcycle accident attorneys move quickly to investigate the cause of your accident and to determine who is responsible. When insurance companies make lowball offers, we're ready to try your case in court. With lead attorney and longtime biker James Roswold on our team, we understand exactly what you face when you're hurt in a motorcycle wreck. We also have a track record of success in motorcycle accident claims, including a $3,000,000 settlement.
How common are motorcycle accidents?
According to the Insurance Information Institute, there were just under 8.6 million registered motorcycles in 2019. That same year, there were 84,000 reported motorcyclist injuries and more than 5,000 motorcycle deaths. By comparison, there were about 24,000 fatal accidents in 2019 involving cars and trucks, and another 7,400 involving pedestrians and cyclists. What this data about fatal accidents tells us is that, while motorcycle accidents are less common than car and truck accidents, they are more likely to fatal.
For the record, most weekday fatal crashes – about 23.7% – occur between 3:00pm and 6:00pm (rush hour) while most weekend fatal accidents (25.1%) occur between the hours of 6:00pm and 9:00pm.
What are different types of Lee's Summit motorcycle accidents?
The sharp and sleek look of a bike can work against a motorcyclist. Because motorcycles are small and unnoticeable, other motorists can fail to notice them while switching lanes or attempting to pass another vehicle. This failure to pay attention can result in different types of accident, including:
Head-on collisions. These types of accidents happen when a motorcyclist and another vehicle traveling in opposite directions collide. Because motorcycles lack the additional protection that a motor vehicle or a commercial truck provide, it is not surprising that the motorcyclist will take on most of the impact from the collision. Depending on the speed of both vehicles, the motorcyclist can be immediately ejected from the motorcycle, putting them at risk of severe or fatal injuries.
Lane-switching accidents. These types of accidents happen when a motor vehicle attempts to merge into a lane that is already occupied by a motorcyclist. These accidents usually happen because the motorist is not paying attention or fails to notice the motorcyclist in the lane.
Lane-splitting accidents. These types of accidents happen when a motorcyclist attempts to weave through traffic between two lanes. Motorcyclists may attempt to split lanes when traffic is slowing down or coming to a complete stop. When other drivers are not paying attention, it is very easy to strike a motorcyclist who is attempting to pass through. It is important to note, however, that lane-splitting is illegal in both Missouri and Kansas.
Do I have a case?
Call now or fill out a form to receive a free confidential consultation
What are some common injuries from motorcycle accidents?
Motorcycle accidents cause serious and often fatal injuries. Some of the common injuries our Lee's Summit injury attorneys see with our clients include:
Traumatic brain injuries. One of the most prevalent injuries that motorcyclists can suffer from are head injuries. This is why helmet use is encouraged for all motorcyclists. The Insurance Institute for Highway Safety (IIHS) reports that helmets are 67 percent effective in preventing brain injuries for motorcyclists.
Road rash. Road rash is a type of burn injury that happens when a motorcyclist is ejected from the motorcycle and scrapes their skin across the roadway. Even though road rash can happen to any part of the body, the common areas involve the arms, back and legs. Although this injury typically not fatal, victims may need a skin graft to recover.
Broken bones. Being thrown or knocked off a motorcycle can cause broken ribs and fractured limbs. All motorcyclists are encouraged to wear protective clothing and gear.
Internal organ damage. Some of the damage in an accident is not immediately noticeable. This can include internal bleeding, a brain hemorrhage, torn blood vessels, punctured lungs, and damage to the heart, liver, and spleen. Internal bleeding can become fatal without proper diagnosis and immediate treatment.
Spinal injuries. Spinal discs are body parts that consist of supple pads used to fill in the gap between the bones in the spinal column and the vertebrae. With a slipped disc injury, common in vehicle accidents, the material inside the spinal disc swells up, putting additional pressure on the outer membrane of the spinal cord. Symptoms of a spinal disc injury include lower back pain, carpal tunnel syndrome, muscle strain, and spinal stenosis.
Related: 6 Common Shoulder, Arm, and Hand Injuries from Motorcycle Accidents
Is there a Lee's Summit motorcycle accident lawyer near me?
Kansas City Accident Injury Attorneys has offices at 200 NE Missouri Road, Suite 200, in Lee's Summit, Missouri. Please call for an appointment. Our law firm also has offices throughout Missouri and Kansas.
Injured in a motorcycle accident? Let our Lee's Summit motorcycle accident attorneys help today
There's nothing like the thrill of riding a motorcycle down a country road – until you have an accident. Unlike cars and trucks, motorcycles do not provide any protection to the driver. In the event of a crash, riders are likely to slam into the hard asphalt or another vehicle, experiencing life-altering or fatal injury. The team at Kansas City Accident Injury Attorneys want to see you get back on your feet after a serious motorcycle accident and work to recover the compensation to which you are entitled. Don't fight the insurance company all by yourself; contact our offices today and find out how it feels to come FIRST. To discuss your motorcycle accident claim, call us at 816-471-5111 or fill out our contact form to schedule your free consultation.
Related: